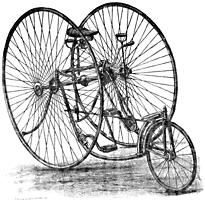 Penny Farthing Antique Catalogs
Rideable Bicycle Replicas offers a limited number of 1880's antique bicycle catalog reprints for sale. Please note that these are catalogs only - the specific items listed within the pages of each are not for sale, as they haven't been made in over 100 years!
These extraordinary historical catalogs serve as chronicles of the dawn of bicycle construction in the United States. Each catalog contains over 50 complex line drawings and explanations of the clothing, tools, parts, and costs of each bicycle for each of the eleven featured manufacturers. If you would like any of these unusual bicycles built, Rideable Bicycle Replicas can probably build something similar to the pictured item, just call us for details.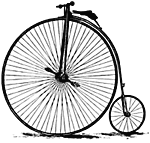 If you want to find out what cycling was like about 100 years ago, you'll find these reprinted catalogs a worthwhile purchase. These are not originals, but good replicas. We had them printed from the original negatives bought from Clyde Nitz of Baltimore. He was very active in cycling in the 1930's, 40's, and 50's in the local and National Wheelmen Club, and helped get political recognition for bicycles long before the cause became popular. The catalogs are in pretty good shape, but the printing on the originals left a little to be desired.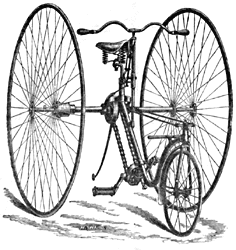 The catalogs include beautiful line drawings of the unusual bicycles and illustrations of clothing and special tools. One amazing revelation you will discover in these catalogs is just how expensive the bicycles back then were.
Please note that time has weathered the catalogs a bit, but they are still in good condition. Some of the individual catalogs are in short supply and we may soon be out of them. The catalogs also vary in length from 6 to 48 pages long.
In the listing below we have highlighted a few of these catalogs with links to more details. Each catalog link gives you a brief sampling of the bicycles and text you will find displayed in each catalog. Although we have only featured a few catalogs in the museum, you may of course order any of the eleven catalog reprints.
Call (510) 769-0980 to place an order for any of these historical catalogs. To see a sampling of info from the catalogs, click on the title links. Catalogs are available individually as priced, or the complete 12 catalog set is available for $97.40 (+$15 for S&H within the continental U.S.).
| | | |
| --- | --- | --- |
| Catalog Title: | Pages: | Price: |
| American Star 1886 | 38 | $118.00 |
| Eagle 1891 | 42 | $60.00 |
| | 42 | $30.00 |
| New Mail Safety 1891 | 6 | $22.00 |
| Columbia Chainless 1891 | 18 | $85.00 |
| | 42 | $16.00 |
| | 36 | $59.00 |
| | 50 | $65.00 |
| St. Nicholas Toy Co. | 16 | $18.00 |
| | 34 | $25.00 |
| New Rapid and Quadrant Cycles | 40 | $39.00 |
| Compilation Catalog of English Bicycles 1877-1886 | 104 | $30.00 |